The Aerospace & Defense Forum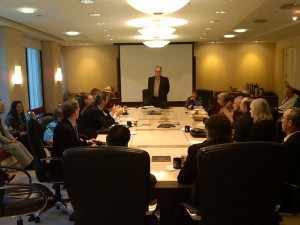 The Aerospace & Defense Forum is a community of over 1800 industry senior executives and professionals who collaborate and share news, information, and analysis relevant to the business of the aerospace, commercial space and defense industries.
The membership consists of:
* 38% aerospace and defense company executives and entrepreneurs
* 33% senior business service providers and other professionals
* 18% financially oriented organizations, such as private equity groups, banks, commercial lenders, and investment bankers
* 11% government agencies, non-profit and professional associations, and other interested parties
Started in May 2010, there are seven chapters.
– Arizona Chapter meetings are monthly in Phoenix on the 2nd Tuesday, 7:30-9:00am
– Los Angeles Chapter meetings are monthly in Century City on the 3rd Friday of each month, 7:30–9:00am.
– Orange County Chapter meetings are monthly in Costa Mesa on the 1st Thursday, 7:30–9:00am.
– San Diego Chapter meetings are every other month in San Diego on the 4th Tuesday, 7:30-9:00am.
– South Bay Chapter meetings are monthly in Torrance, CA on the 2nd Wednesday, 7:30-9:00am
– Dallas-Ft. Worth Chapter meetings are monthly on the 2nd Thursday, 7:30-9:00am
– San Fernando Valley Chapter meetings are monthly in Sherman Oaks, CA, on the 3rd Tuesday, 7:30-9:00am
Each chapter meeting, typically with 30-45 attending, typically consists of a presentation by an industry leaders, followed by discussion and networking. About twice a year meetings are at an A&D company. Click here for a list of past and planned presentations.
Discussion and presentation topics have included:
* Presentations by executives from NASA's Jet Propulsion Laboratory, Sea-Launch, Boeing, aerospace fabricators, and launch vehicle and satellite manufacturers
* Visits to and presentations by SpaceX, LAX, Edwards Air Force Base, C-17, F-18, C-17, F-25, and Global Hawk production lines, and The Columbia Memorial Space Center.
* Lean Manufacturing
* Cyber security
* The emerging commercial space industry
* Civil and defense space activities
* The impact of composites on design and manufacturing
* The state of A&D mergers and acquisitions
Any topic that relates to something that lifts off the ground is appropriate for the A&D Forum.
A semi-monthly e-mail newsletter contains articles, meeting notices, news, and other A&D related information.
The A&D Forum website, open only to members, provides announcements, an extensive list of A&aD related resources, a calendar of aerospace-related activities, downloadable audio recordings and slides of presentations, and member contact information.
A&D Forum membership in areas where there is an operating chapter is $350/year (corporate memberships are available). Membership is free elsewhere. Chapter meetings are free for members, and for non-members are $30 up to a week before the meeting and $40 thereafter.
To become a member click here.