"Aerospace can be Fun"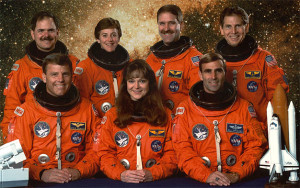 Arizona Chapter November 10 meeting
Lt. Col. (Ret) Bill Gregory has a background in Aerospace matched by few. Since his days at the USAF Academy beginning in the summer of 1975, he has studied Aerospace disciplines, been a pilot continuously for nearly 40 years, spent nearly a quarter-century in the military, and has spent the last 16+ years in the civilian world serving the Aerospace and Defense community. He has a wealth of experience concerning what it takes to keep America airborne…from manufacturing aircraft parts from raw materials, to flying the Space Shuttle 200+ miles above the Earth's surface at five miles per second or twenty five times the speed of sound.
Please join us in Phoenix, AZ on Tuesday, November 10, 2015, (networking at 7:00am, meeting 7:30–9:00am), when Bill Gregory, Former NASA Astronaut and currently Advanced Instructor Pilot for Aviation Performance Solutions will discuss his career, from fighter pilot, to test pilot, to astronaut pilot, and currently as an instructor pilot. Special emphasis will be given to his flight in space [STS-67] and will include a video of the mission. Hopefully this will pique your interest in the history of the United States' space program, where it is today, and where it will go in the future. He will also cover his current occupation of teaching pilots how to recover from out-of-control situations.
Unless you are the rare breed who refuses to fly in a corporate or commercial jet aircraft, you will be interested on what changes are afoot to make your next flight a safer trip through the skies.
The meeting is free for A&D Forum and Arizona Technology Council members and $40 for non-members ($30 Early Bird until November 3). For more information and to register to attend the meeting, go to http://adfaznov15.eventbrite.com.
Click here for more information about and to join The Aerospace & Defense Forum.
The Arizona Chapter of The A&D Forum is sponsored by Moss Adams and Greenberg Traurig.