"5 Ways Leaders Solve Problems with Stories"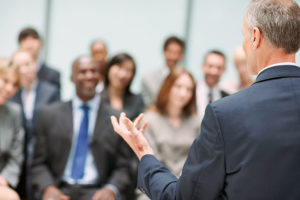 Los Angeles Chapter meeting on July 21
Great leaders are great story-tellers. Successful stories not only solve problems, they leave their listeners with a greater ability to adapt to the challenges of life. In this interactive presentation, learn the 5 elements of a great story, and how stories can achieve your goals in every professional encounter – from business introductions to full-scale presentations.
Join us in Los Angeles on Friday, July 21, 7:30–9:00am, when Ann Convery, Principal, Speak Your Business will help us discover:
• How to capture attention in 8-10 seconds
• 3 keys to make your story "all about" your listener, not you
• How to create a "neck-down" story for deep and lasting connection
• The No. 1 way to engage your listeners in 2-5 minutes
• How to use the Empathy Telescope to guarantee emotional investment
Come discover the keys to a great story and then spend up to 30 minutes practicing your story in small groups with peer feedback. Leave with at least one story that will show you how to achieve your goal: from persuading stakeholders to attracting more business.
The meeting is free for members & $40 for non-members ($30 Early Bird until July 14). For more information and to register to attend the meeting go to http://adflajul17.eventbrite.com.
Information about joining The A&D Forum is at http://aerospacedefenseforum.org.
The Los Angeles chapter of The Aerospace & Defense Forum is sponsored by Moss Adams, Jeffer, Mangels, Butler & Mitchell, InVista Associates, and the 62 Mile Club