"Additive Manufacturing (3D Printing) Has Arrived!"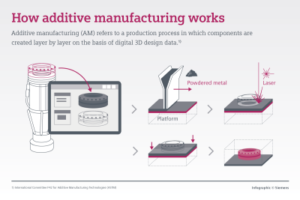 Orange County Chapter meeting on August 4
(live webstream available)
Please join us in Irvine on Thur, Aug 4, 7:30– 9:00am PDT (networking at 7:00am), when Scot Thompson, West Area Account Manager, EOS of North America and Ivan Madera, Founder and CEO, Morf3D, will be looking at the game changing opportunities that Additive Manufacturing provides, equipment, methods to qualify, who is using it, what are the factors that affect growth, and what is the market potential today and forecasted. Also, should you be concerned if your competition were to invest in AM first?
The meeting is free for members & $40 for non-members ($30 Early Bird until July 28) (attending via the web is free). Click here to register to attend the meeting
Information about joining The A&D Forum is at http://aerospacedefenseforum.org.
The Orange County chapter is sponsored by D.A. Davidson & Co., Moss Adams, Hein & Associates, and UK Trade & Investment.