"Innovation and New Applications in the Unmanned Maritime Domain"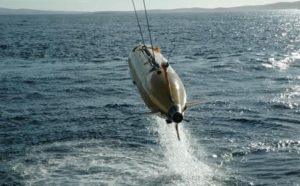 San Diego Chapter meeting on July 25
Unmanned Systems in the airborne arena, drones, have dominated the media, but there is considerable innovation and exciting activity in the unmanned maritime systems domain. San Diego, with the Navy's presence and UCSD's Scripps Institute of Oceanography, is a fertile ground for this innovation.
Please join us on Tuesday, July 25 (networking: 5:30-6:15pm, meeting: 6:15-7:45pm PST), when Leverett Bezanson, Engineering Manager, SeeByte, Inc.; Chris Gibson, Vice President of Sales, Marketing, VideoRay, and Gaurav Sharma, Embedded Systems Engineer, Teledyne SeaBotix will address the emerging and developing technologies of Unmanned Maritime Systems as well as business and operational employment in various industries.
Unmanned marine vehicle systems are used for a wide range of commercial and military. For commercial, these include: Oil and Gas Exploration and Construction, Oceanographic Data Collection, Hydrographic, Oceanographic and Environmental Surveys. For military these include Mine Counter Measures, Intelligence, Surveillance and Reconnaissance, Anti-Submarine Warfare, and Fast Inshore Attack Craft for combat training.
The meeting is free for members & $40 for non-members ($30 Early Bird until July 18). For more information and to register to attend the meeting go to http://adfsdjul17.eventbrite.com.
Information about joining The A&D Forum is at http://aerospacedefenseforum.org.
The San Diego chapter is sponsored by Moss Adams, Bank of America Merrill Lynch, LevitZacks, BNY Mellon Wealth Management, and Sheppard Mullin Richter & Hampton.