Tour of General Atomics UAV Flight Test Facility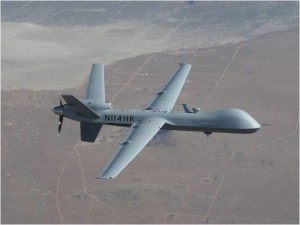 South Bay (CA) Chapter October 14 meeting in Palmdale
General Atomics Flight Test Facility (also known as the Gray Butte UAV Site) may be the largest private unmanned aerial vehicle airport in the USA. It is General Atomics' main test center, where the company's Predator and Reaper UAVs are regularly flown. The company has operated for years out of the nearby El Mirage Lake airport, which it developed with the CIA, and still uses as well.
Please join us in Palmdale, CA, on Wednesday, October 14, 2015, 10:00am-12:00pm PDT (networking at 9:30am) for a presentation and tour of the Facility
Attendance is limited to US Citizens who are the #1 or #2 operating executives of A&D companies or plants. The meeting is free for A&D Forum members and $40 for non-members ($30 Early Bird until September 29). Advanced registration is required, and registration closes at 7:00am on October 7. For more information and to register to attend the meeting or for the waitlist, go to http://adfsboct15.eventbrite.com.
Click here for more information about and to join The Aerospace & Defense Forum.
The South Bay Chapter of The Aerospace & Defense Forum is sponsored by Moss Adams, Aerospace Engineering Corp., Community Bank, and California Manufacturing Technology Consulting, and led by the heads of Aerospace Manufacturing & Engineering. Alloy Processing, Triumph Aerostructures-Hawthorne, Dasco Engineering Corporation, Brek Manufacturing, and Frontier Associates.