"Trends in A&D MRO and Aftermarket"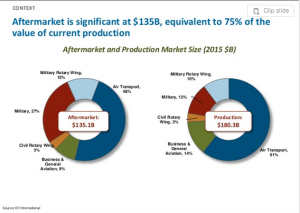 Orange County Chapter meeting on May 5
(live webstream available)
The aftermarket industry is rapidly growing and shifting, like much of the Aerospace & Defense market.
Please join us in Irvine on Thur, May 5, 7:30– 9:00am PDT (networking at 7:00am), when Jeffrey Johnston, President & CEO of Desser Holdings, will discuss the latest update in this critical market. Join us in this exploration of the growing MRO service and aftermarket distribution industry from General Aviation through the large commercial transport.
The meeting is free for members & $40 for non-members ($30 Early Bird until April 28) (attending via the web is free). Click here to register to attend the meeting
Information about joining The A&D Forum is at http://aerospacedefenseforum.org.
The Orange County chapter is sponsored by D.A. Davidson & Co., Moss Adams, Hein & Associates, and UK Trade & Investment.