Tour of Avcorp Composite Fabrication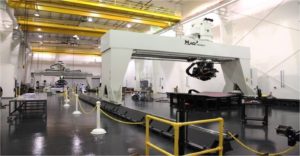 Aerospace & Defense Forum Meeting in Gardena, CA on November 9
Weight is everything when it comes to heavier-than-air machines, and designers have striven continuously to improve lift to weight ratios since man first took to the air. Composite materials have played a major part in weight reduction and will pave the way to the future of flight in flying machines yet to be designed.
Join us on Wednesday, November 9, 7:30am – 9:00am PDT, for a tour of Avcorp Composite Fabrication (ACF) to see a view of modern composites methods applied to both commercial and military aircraft. The degree of automation and the scale of the operation will surprise most visitors.
ACF provides structural composite components for the Boeing 787 (The Dreamliner), the Joint Strike Fighter (F-35 Lightening), the Atlas V rocket, the Trident Strategic Missile program and many others.
The meeting is free for A&D Forum members and $40 for non-members ($30 Early Bird until November 2). Advanced registration is required. For more information and to register to attend the meeting, go to http://adfsbnov16.eventbrite.com.
Click here for more information about and to join The Aerospace & Defense Forum.
The South Bay Chapter of The Aerospace & Defense Forum is sponsored by Moss Adams, Community Bank, and California Manufacturing Technology Consulting.