ARIZONA CHAPTER SPONSORS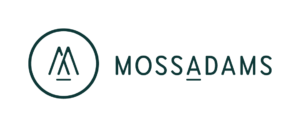 Moss Adams is the largest accounting and consulting firm headquartered in the West Coast and the 11th largest in the United States. Moss Adams provides accounting, tax, and consulting services to public and private middle-market enterprises in numerous industries, including manufacturing and distribution, and aerospace, among others. Founded in 1913 and headquartered in Seattle, Washington, Moss Adams has 21 locations in Washington, Oregon, California, Arizona, New Mexico, and Kansas. Moss Adams has two affiliated companies—Moss Adams Capital LLC and Moss Adams Wealth Advisors LLC—that allow us to offer our clients additional services such as investment banking and asset management, should they require or request them. In addition, Moss Adams provides consulting services in a variety of areas, including information technology, litigation support, business planning, mergers and acquisitions, wealth management, corporate finance, and valuations.
National Bank of Arizona was founded on a mission of building local relationships and providing exceptional customer service. More than 30 years later our approach hasn't changed. We still pride ourselves on providing local expertise and delivering award-winning service.
National Bank of Arizona is a division of ZB, N.A., which operates in nearly 500 local financial centers across 11 Western states: Arizona, California, Colorado, Idaho, Nevada, New Mexico, Oregon, Texas, Utah, Washington and Wyoming. ZB, N.A.'s parent company is Zions Bancorporation, which is included in the S&P 500 and NASDAQ Financial 100 indices (NASDAQ: ZION).