"Advanced Manufacturing Technology for Lockheed Martin F-35 Lightning II Joint Strike Fighter"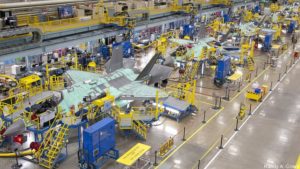 Dallas-Ft. Worth Chapter November 17 meeting
The F-35 Lightning II is the newest 5th generation fighter entering the fleets of the US Air Force, Marines, and Navy as well as many of our allies over the next few years. The program is preparing to transition to rate production and is uber-focused on Affordability. Manufacturing Technology is one of the key Affordability enablers for the program including the use of automated drilling equipment, robotic coatings, and non-contact metrology.
Please join us in Arlington on Thursday, November 17, (networking at 7:00am, meeting 7:30–9:00am), when Dr. Don Kinard, Senior Technical Fellow, Lockheed Martin Aeronautics Production Operations with give a brief overview of the program and discuss some of the manufacturing technologies being applied.
The meeting is free for all. For more information and to register to attend the meeting, go to http://adfdfwnov16.eventbrite.com.
Click here for more information about and to join The Aerospace & Defense Forum.
The Dallas-Ft. Worth Chapter is sponsored by BellNunnally and the University of Texas at Arlington Research Institute (UTARI).