Airshows: How to successfully navigate the "Flying Circus"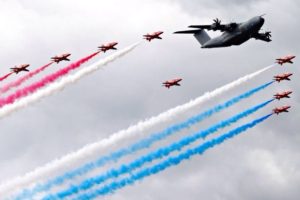 Dallas-Ft. Worth Chapter September 8 meeting
The excitement and overwhelming circus of airshows and global supply chain events can be a daunting task for anyone. Participation at these events is a critical success factor for any business, but determining your company's costs, participation, and preparation in order to maximize your return is too often overlooked. Expectations can fall short without proper preparation and the return on your investment may appear a waste, resulting in diminished interest in future events, ultimately resulting in missed opportunities to further develop your crucial business relationships.
Learning how to define your objectives and, sufficiently preparing for and conducting meetings are just a few elements of effective airshow strategy. Too often the participant shows up on the first day, unsure what to expect, with a logistical nightmare of overbooked meetings, only to be late to half, no-shows for the other half, and unable to call the customer/supplier because the phone service disconnected halfway through the morning coffee rush.
Airshows and supply chain events are typically described in one of two ways: (1) the amazing experience with successful meetings and champagne filled receptions, or (2) the dreadful horror stories of logistics nightmares, hours-long waits to get back to the hotel, and soaking wet shoes resulting in a week's worth of blisters, with mediocre-at-best meetings where it seems that you're not getting anywhere…
How can you make your experience more of the former and less of the latter?
Please join us in Arlington on Thursday, September 8, (networking at 7:00am, meeting 7:30–9:00am), when Michael Shields, Vice President, Safran North America Purchasing will share a recap of lessons learned, guidance and recommendations from his years of experience working in Purchasing and Supply Chain and attending countless airshows and events – for the before, during and after – to help make these events throughout the year a meaningful part of your business, and to maximize your investment when attending these air shows.
The meeting is free for all. For more information and to register to attend the meeting, go to http://adfdfwsep16.eventbrite.com.
Click here for more information about and to join The Aerospace & Defense Forum.
The Dallas-Ft. Worth Chapter is sponsored by BellNunnally and the University of Texas at Arlington Research Institute (UTARI).