"The Threat of Terrorism and its Impact on American Businesses"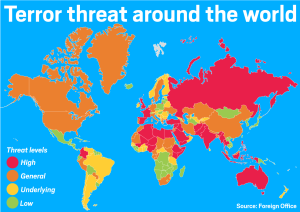 Dallas-Ft. Worth Chapter April 14 meeting
There has always been violence in the world and the motivation behind the violence varies from simple financial gain to the elimination of entire cultures and governments. In the past many of the regional conflicts and motivating factors for violence really did not impact the USA. However, with the advent of the Global Marketplace and the need for us to interact both physically and virtually in at risk regions of the world, we now have major exposures to our personal and corporate well-being on a regular basis. In addition to the foreign based threat we also have domestically based extensions of these same threat groups here in the USA.
The rapid expansion of Terrorist organizations in the past ten years has greatly increased the rate of incident occurrence and the associated losses with each attack. Many of these "attacks" are not publicly known and some may not even be "violent" in their nature. But, they still involve serious losses. The tragic killing of villagers who comprise the local workforce in an undeveloped country, the kidnapping of one of your brightest engineers, a cyber-attack against your firm's intellectual property, an attack on the national government of a country where you have invested millions of dollars in development funds – could any of these situations impact your business?
Please join us in Arlington on Thursday, April 14, (networking at 7:00am, meeting 7:30–9:00am), when Kevin Mellott, CEO and President, ERASE Enterprises, will address various types of targeting methodologies used by terrorist organizations against business interests, the various types of countermeasures that you should implement when working abroad in destabilized areas, actions that you and / or your firm should avoid taking so that you do not increase your terrorist targeting profile, and some of the important government resources available to you to combat physical and cyber threats from terrorist organizations.
The meeting is free for A&D Forum members and $30 for non-members. For more information and to register to attend the meeting, go to http://adfdfwapr16.eventbrite.com.
Click here for more information about and to join The Aerospace & Defense Forum.
The Dallas-Ft. Worth Chapter is sponsored by BellNunnally and the University of Texas at Arlington Research Institute (UTARI).