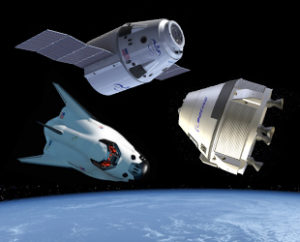 "An Emerging Business Model for Commercial Space"
Los Angeles Chapter meeting on June 17
During the past ten years, the barriers constraining commercial space projects and investments have been reduced through key factors such as the emergence of a robust international commercial space transportation system and non-government management of the International Space Station.
However, the existing portfolio of space ventures nevertheless remains very limited. The conclusion we're left to draw is that significant barriers remain to full exploitation of the potential that space science offers.
Please join us in Los Angeles on Friday, June 17, 2016, 7:30am – 9:00am PDT (networking at 7:00am), when Dr. Michael Wiskerchen, Founder of SpaceTech Holdings will discuss the future of space, the changes happening in the industry and the impact on the Southern California economy, and new opportunities created through commercial space initiatives. Join us to gain a better understanding of the potential for commercial space development, investment opportunities, current activity in the greater Los Angeles area, what's real and what's not, and why commercial space is or isn't a good investment opportunity. Whether you are an entrepreneur or established manufacturer, investor, or space enthusiast; Dr. Wiskerchen's presentation will provide interesting insights into the rapidly changing landscape of commercial space.
The meeting is free for A&D Forum members and $40 for non-members ($30 Early Bird until June 10). For more information and to register to attend the meeting in person or for free via the web, go to https://adflajun16.eventbrite.com.
Information about joining The A&D Forum is at http://aerospacedefenseforum.org.
The Los Angeles chapter of The Aerospace & Defense Forum is sponsored by Moss Adams, CohnReznick, Jeffer, Mangels, Butler & Mitchell, the 62 Mile Club, and UK Trade & Investment.