"Are Drones the New First Responders?"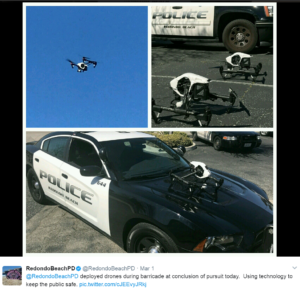 Orange County Chapter meeting on November 2
We all recognize that first responders have a challenging and vital role. They are called to respond to multiple incidents simultaneously, with little to no advance notice, and often to remote locations where time is a critical component of situation evaluation and mitigation.
Flying Lion was formed to address these challenges, offering Law Enforcement and Emergency Services Departments on-demand rapid aerial assessment and imaging services with remotely operated copters with built in HD and infrared cameras. "Eyes on the Scene" applications include emergency response, active shooter, SWAT, fire, crowd observation, natural disasters, search and special events.
Join us in Irvine on Thursday, November 2, 7:30–9:00am, when Barry Brennan, Founder and President of Flying Lion will discuss the company's role with public safety, a brief history of UAS, the current FAA requirements, and the future of UAS.
You will find this to be an interesting look at how technology is being integrated to significantly enhance public safety and the capability of first responders, and maybe see opportunities for technology integration by your company.
The meeting is free for members ($40 non-members). Click here to register to attend the meeting
Information about joining The A&D Forum is at http://aerospacedefenseforum.org.
The Orange County chapter is sponsored by D.A. Davidson & Co., Moss Adams, Hein & Associates, and Verify.