"The Evolving State of Federal Contractor Bid Protests"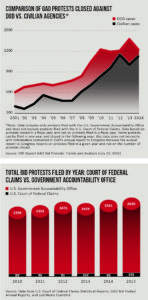 Orange County Chapter meeting on December 7
Bid protests are a critical facet of the federal procurement process and ensure that the government's procurement decisions are rendered lawfully. Protests ensure that contractors competing for federal contracts are evaluated fairly and in accordance with the solicitation and the FAR. As the budgets of certain federal agencies shrink, the bid protest process becomes an especially important tool for contractors in pursuing or maintaining existing federal work. Bid protests remain equally important for Department of Defense procurements, where spending appears likely to remain strong.
Join us in Irvine on Thursday, December 7, 7:30–9:00am, when Richard Oliver, Partner, Pillsbury Winthrop Shaw Pittman, a leading authority on government contracts and disputes involving the Department of Defense and civilian agencies, will describe recent developments in government contract bid protests, including the impact of the 2017 National Defense Authorization Act and the GAO Civilian Task and Delivery Order Protest Authority Act of 2016, which have greatly impacted the ability of government contractors to pursue bid protests on task order awards.
The meeting is free for members ($40 non-members). Click here to register to attend the meeting
Information about joining The A&D Forum is at http://aerospacedefenseforum.org.
The Orange County chapter is sponsored by D.A. Davidson & Co., Moss Adams, Hein & Associates, and Verify.