Western Museum of Flight Tour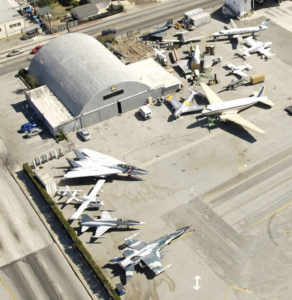 South Bay Chapter Meeting on Nov 8
Please join us on Wed, Nov 8, 7:30-9:00am in Torrance, CA for a tour of the Western Museum of Flight. You will hear a short verbal history of the museum, the museum's charter, its mission, its activities, a short history of the Torrance Airport and a very brief discussion of what you will see on the tour. You will also hear about the museum's goals for expansion and being housed in a modern museum building at the east end of property.
The Western Museum of Flight is a non-profit, educational institution dedicated to preserving and displaying aircraft history and artifacts of Southern California's aviation heritage. The Air Museum's educational programs give children an opportunity to see and touch the airplanes that made aviation history. The Air Museum offers an inside look at completed and in-progress aircraft restoration projects. The Western Museum of Flight's collection includes numerous Warbirds, aircraft and target drones, piston and jet aircraft engines, aircraft components, aircraft ejection seats, World War II instruments, aircrew accessories, and an extensive model aircraft collection.
The event is free for A&D Forum members and $40 for non-members ($30 Early Bird until Nov 1). For more information and to register to attend go to http://adfsbnov17.eventbrite.com.
Click here for more information about and to join The Aerospace & Defense Forum.
The South Bay Chapter of The Aerospace & Defense Forum is sponsored by Moss Adams, California United Bank, Community Bank, and California Manufacturing Technology Consulting.